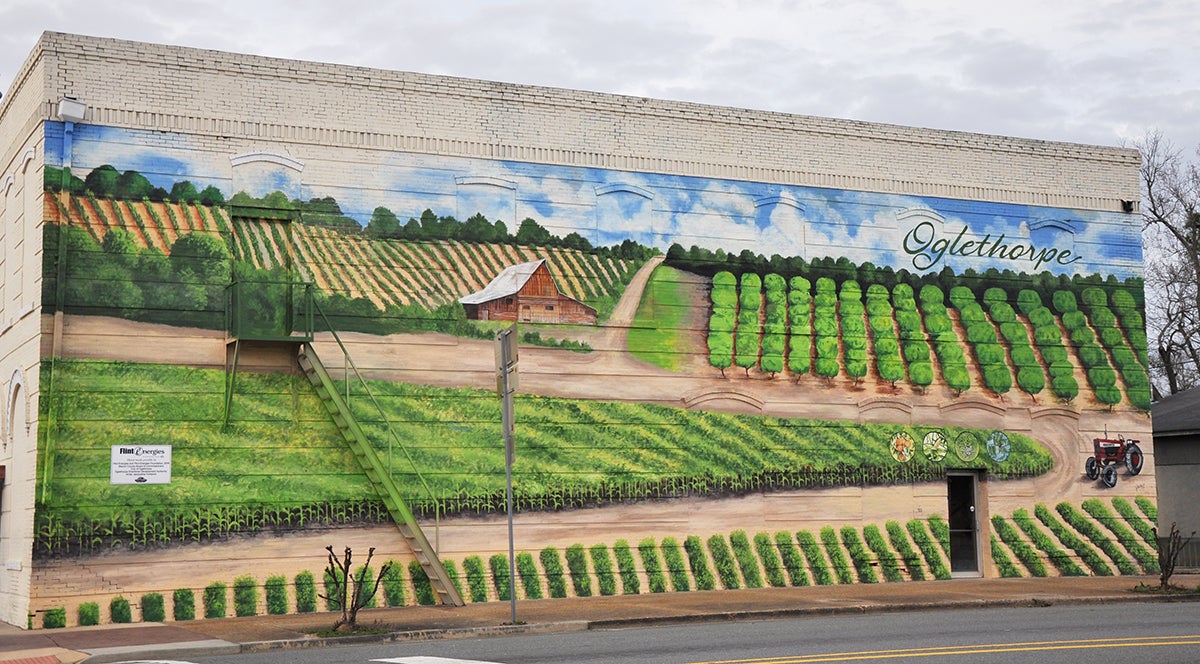 We want to create a mural for your hometown!
The Flint Energies Rural Murals Program establishes a collaboration between Flint Energies and the local, rural community to create murals that carry lasting impact, sparks economic development and is the focal point of community discussion. The focus is to celebrate the unique history and diversity of our local rural communities. It is vital to establishing a strong sense of place for residents by creating suitable and recognizable murals within a community/downtown. The program intends to increase the number of public murals across Flint's service territory, while supporting the incredibly talented artist community within Middle Georgia. Flint Energies will identify and partially fund the projects that highlight positive images of the Middle Georgia area's history and culture. 

Our murals are designed to bring travelers off main interstates to travel the backroads…off the beaten path to discover the vast resources our area has to offer. Money spent in the towns that host the murals will directly benefit as the funds are given by visitors and not long-time residents.

Our hope is to positively impact the aesthetics, activation, marketability and perception of each winner's community; increase property values and serve as a catalyst for continued private sector investment through visible improvements. We hope that the mural will provide a visually-friendly environment for residents and visitors to dine, shop, work and live.
Our first Rural Murals project, completed in 2019, can be found in downtown Oglethorpe, Georgia (see photo above). Our other Rural Murals projects can be found in downtown Roberta, Fort Valley and Butler, Georgia.

Each mural tells a story
Murals are created by the selected artist(s). Mural is custom-made for each location. From conception to installation, each mural will reflect the community's unique history (i.e., prominent industry, local festival, folklore, etc.). Ideally, each mural would have historical significance and/or aesthetic quality, but not necessarily. Scale and color are used to provide depth and perspective in the mural.
No two murals are the same. Each mural is custom made, and each location has a specific wall upon which the mural can be installed. Community historical societies, libraries and archives will be relied upon to assist with themes and local images that will resonate with the community. Our murals resonate with consumers and community leaders, who appreciate our efforts to celebrate their communities. It is our hope that the mural will become a focal point in the community.
Each mural includes a caption and credits the community organizations that partnered together to make the mural possible. The legend or mural key is installed next to the mural.
The mural will be unveiled to the public in a fun and creative setting that creates excitement for the community.